Library Post of the Week
Archived Posts from this Category
Posted by georgia on 13 Oct 2009 | Tagged as: Library Post of the Week
Did you watch the first of two episodes of LATIN MUSIC USA last night? If you didn't, and/or if you did, do check out the show's website which has some resources.
Although this isn't Cuban music and dance specific, this show covers interesting chapters in Latin music. I'll highlight a video used in the show called "Our Latin Thing" ("Nuestra Cosa Latina.") It was recorded in New York City at the Cheetah in August of 1971. If you haven't seen this film, check it out. It was the beginnings of salsa in the USA. Boy, do I wish I could have been there.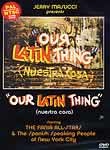 I got a copy at the Puerto Rico airport on a trip a few years ago. Looks like netflicks might have it. Enjoy!
Posted by georgia on 06 Oct 2009 | Tagged as: Library Post of the Week
To add to the excitement about learning with all the upcoming workshops, visiting instructors, classes, and events, I thought I'd begin a weekly post. I've spent time over the past years reading on the subject of Cuban music, dance, and Latin music in general and thought it would be fun to post these materials. As well, I have spent time collecting music. My intent is to post weekly like Cat with the Video of the Week. So here is my first installment. Look for more next week. Enjoy! Georgia
¡Musica!: The Rhythm of Latin America: Salsa, Rumba, Merengue, and More, By Sue Steward
While this book covers many subjects and therefore only touches on the surface, it does give a good topical overview of Latin music (with a chapter on Cuba.) It was the first book I purchased and read on the subject back several years ago (so it is a bit nostalgic in my beginnings of reading about music history.) Click on the link above to see some pages via Google Books.