Posted by betsyg on 22 Aug 2012 at 03:24 pm | Tagged as: Social
Improve your dance wardrobe…get a stylish Seattle Rueda t-shirt. It's black, with Seattle Rueda logo and "una bulla."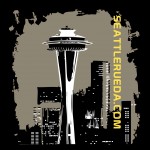 $17 per shirt. If we get a lot of orders it might end up costing slightly less. Open this link and add your order by typing in your contact info, size, and style preference.
Pay Christy Anderson in person at Sunday practice or Alki, or pay her by Paypal, by sending $17.80 to LexisPR@yahoo.com (the 80 cents covers the Paypal transaction fee). Here's a picture of Christy so you know who to hand your cash to. Be sure to add your order by Wednesday September 12. Otherwise you will have to wait a long time before we do another order.
Leave a Reply
You must be logged in to post a comment.